Milligans Feeds brands have been working for the farming community with premium high quality, top performing animal nutrition milk replacers and other animal nutrition products for over 30 years.
Our original No. 1 product range that has been in the marketplace for over 25 years
The range consists of our original 'ClassicTM' calf milk replacer (CMR) and Multi Milk Replacer (MMR), formerly known as our original LMR or 'Lamb Milk Replacer' and is suitable for multi-specie animals.
The addition of 'ExcelPlus' CMR, a premium CMR with added growth stimulating and immune health package, was added in 2008 as another premium milk replacer to compliment the Classic version.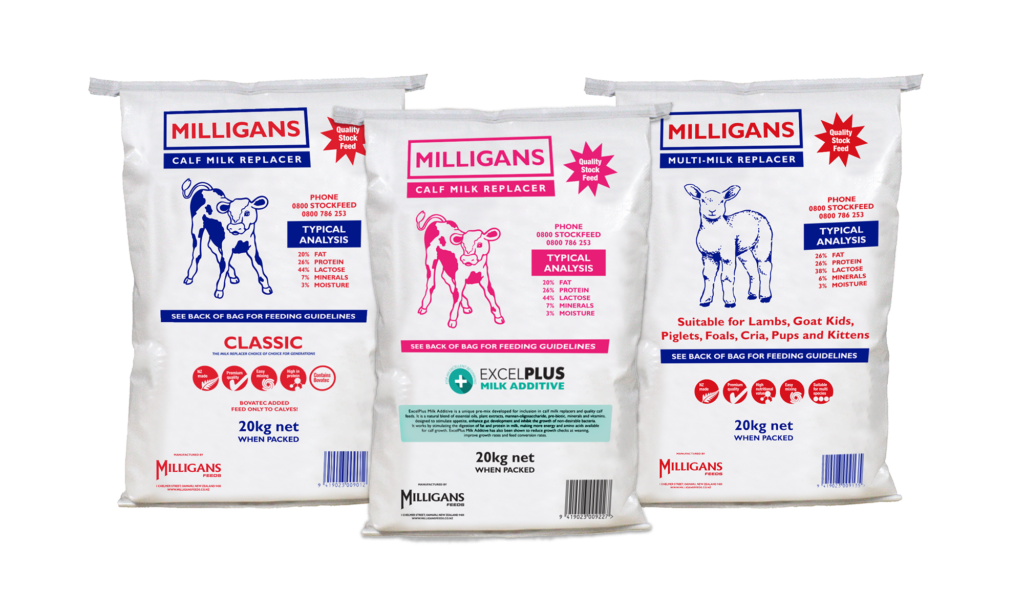 A range of milk replacers that originally started with one product being GOcalf CMR, now known as GOcalf Boost, an economical version of the Milligans 'ClassicTM' CMR.
GOcalf Boost CMR is the economy choice suitable for calves from day 4 or ideal for fortifying with Wholemilk/colostrum. GOcalf Whey for those after a full whey-based product. GOlamb and GOgoat, full whey milk replacers specially formulated by Milligans for New Zealand conditions, for you guessed it lambs and goat kids. Also new to the range is GOmulti with only the best whey and casein-based products to produce this product to give the ''best of both worlds'' rearing experience for Kiwi farmers which completes a full range to suit every need.
Our 'Animal Health' range which includes products such as Colostrum and Electrolytes.
Milligans Ultra-Premium calf milk replacer contains ExcelPlus Milk Additive, a unique premix comprising of conventional minerals and vitamins at optimum levels, and a blend of natural essential oils, plant extracts, functional fibre and a pre-biotic.
ExcelPlus Colostrum is a full bovine colostrum powder formulated to give a more potent energy boost and protection of immunity from increased amounts of essential immunoglobulins.
ExcelPlus Electrolyte is a therapeutic re-hydration powder, designed to enhance water absorption and aid recovery from dehydration due to diarrhoea by replacing the lost mineral salts.
For years Milligans Feeds has been producing a range of high Quality Stockfeeds incorporating both Milk Replacers and Grain Based Stockfeed.
All feeds are produced using high quality local ingredients and nutritionally developed based on their requirements to achieve optimal performance for their end users.
Give calves the head start they need to reach their full potential by feeding Milligans Feeds. Proud to be 100% Locally Owned and operated.